SPONSORED POST
Honest Product Review on my Before and After effects!
Here's a million-dollar question – when do we start switching to anti-aging products?
When I was young(er), it seemed like a problem for a much-older-me to settle. So I shrugged it off.
"I'll cross the bridge when I get to it. 😌"
Sad thing is – I've only just realised I've been walking the bridge for a while.
And at the way things are looking, feels a lot more like a plank than a bridge. 😩
Slap on the fact that I'm steadily pushing 30 and a hectic work lifestyle… this plank feels mighty wobbly with ghastly necklines and eyebags. When it comes to your skin's anti-aging, prevention is wayyyy better than cure. ☝🏻
The amazing people at SK-II sent me their spanking new
and invited me to do an honest review and share my 'Before and After' experiences with my readers! So while this is a sponsored post, this is going to be a lot like my earlier review on SK-II's Facial Treatment Essence and Gentle Cleanser; no bullshit, I'll tell you like it is.
Super excited to see what this baby can do for my necklines! If this works out, might consider investing in the SK-II RNA Power Eye Cream to help with my dark eye circles too. (Hello, it has been reviewed to give you bigger & brighter eyes after 6 weeks of continuous usage! 😑 –> 😳 Must at least try! #sucker)
But for starters, let's focus on the RNA Power Airy Milky Lotion first!
For this review, I committed 3 days of using this product and here's what I got to share with you.
THE 3 DAYS
Overall it was a pretty pleasant experience using this product! Honestly no life altering sort of change, but then again it only has been 3 days. Lol. Beauticians always tell me our skin takes approximately 28 days to renew itself naturally.
So 3 days is only about 10% of the entire period…
For this review, I committed 3 days of using this product and here's what I got to share with you.
Maybe it's a placebo effect or my own eyes playing tricks on me – but I swear I think my jawline got a little sharper.
*throws confetti!* 🎉🎉
That's one of the most desirable effects of a facial product for me. Having a defined jawline really creates worldssss of difference. 💁🏻‍♀️
Plus also noticed my pores shrinking! So much 'yay' over the past 3 days!
However I found the product formula's strength to be little much with combined with other products. Read below for more details!
The Texture & Consistency:
When I first picked up some product, I thought it was quite thick – but it almost immediately absorbed into the skin!
It's pretty smooth and slick. Actually almost feels like those smoothing makeup primers/bases.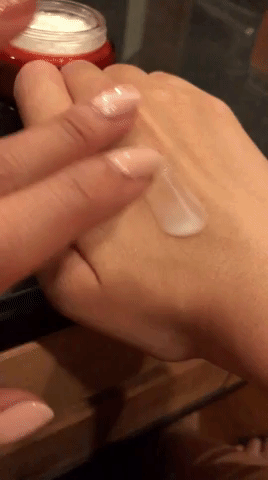 The product is very light, but it also has this very slight wax-ish sort of layer that smoothens the skin.

It definitely makes your makeup application smoother, and gives you a more even complexion. But I personally felt a little clogged when I used my thicker BB cushion over a lighter liquid formula.

So I fully recommend using this product on days when you're not piling on the cosmetics – otherwise it can get mighty uncomfortable. Especially in our diabolical tropical weather! ☀🌴😰
The Feeling:
Speaking of weather – it has been quite nasty (or nastier than usual) lately.
Just so happened during the 3 days, I worked from home for one of the days. And while I love how I'm able to nest in my own environment to focus on some brain-intensive projects – I had no air-conditioning.
Ok, I have a fully-functional air-conditioner. But after it being turned on for the whole night… it's better to just let the machine rest, let some natural air circulate the room and for my skin to escape the dryness.
But that afternoon was soooooo friggin' hot. OMG.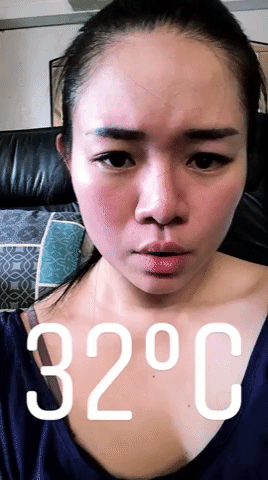 I went out to packet my lunch back and almost felt like I returned from the Sahara. 🐫
However what I was thoroughly impressed with was that my skin didn't feel eeky or sticky at all! 👍🏻 I was actually half expecting it to, because it felt rather rich.
Y'know there are some thicker creams that just don't do well with perspiration? Well, the SK-II RNA Power Airy Milky Lotion actually feels a lot more airy than milky.
Hmm… 🤔 Okay, let me describe it better. 
When you first see the product and pick some up on your fingertips, it looks and feels milky. But once you start applying and rubbing it into your face, it becomes airy. 🤗
Sounds pretty cool, eh?
The Formula's Strength:
Now, what I noticed about this product is that it can be quite strong. 
At night I tend to use stronger skincare products, so on the first night I slapped on my usual thick ampule before putting on the SK-II RNA Power Airy Milky Lotion.
The next day I found tiny bumps around my neck area (which is my most sensitive part). But when used with other lighter products, it works just fine.
So if your skin is a tad more sensitive than mine, go easy on the combination of skincare products. Too much will end up clogging your skin isn't of perfecting it.  
So that ends my 3-day rendevouz with my new beauty addition – the SK-II RNA Power Airy Milky Lotion. Will definitely be using the jar till empty to see if it works on my necklines!
It retails at $149 for the 50g jar and $228 for the 80g one. If you'd like to grab one of your own, pop over to your nearest SK-II store. I'd really advice against getting them from other sources because I've ended up buying imitations before! 
It's scary how those imitations these days look soooo similar  😱 – you sometimes don't realise you're using a fake till you've already caused some damage onto your skin. Too little, too late. 😢 You only have this one skin in your life; be good to it!
One thing I'm insanely anal about when buying products like SK-II is this sticker seal!
That being said, it's also quite easy for counterfeiters to replicate… so just buy from the stores lah. 🤷🏻‍♀️
Share with me your experiences if you've also used anything from the  SK-II Radical New Age (R.N.A.) range! Or if you have any other anti-aging products that moved mountains for you. 😉
And thanks again to the awesome people at SK-II for sending this product for me to try. What I really appreciated was that they didn't ask me to write any biased content  – they asked for a honest-to-goodness review to be shared.
Hope you guys enjoyed this one!
XOXO, Gera.